New Officers Sworn-in
---
At the February meeting at Frenchman's Reserve Clubhouse, County Commissioner Hal Valeche administered the Oath of Office to newly elected leaders Marilyn Parmet (President), Linda Gore (First Vice President), Jane Pike (Vice President), and Linda Stoch (Membership Chair). Treasurer Jeff Holtzman could not be present.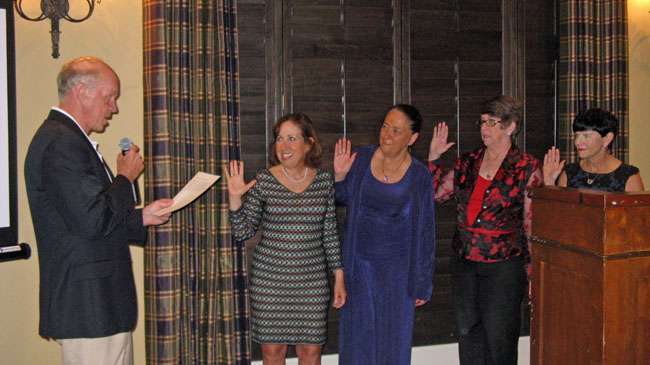 From left, Commissioner Valeche, Marilyn Parmet, Linda Gore, Jane Pike, and Linda Stoch.
Following remarks by Hal in support of the candidates for the Palm Beach Gardens Council election on March 11, (Robin Deaton and Mike Peragine, who were both present), Marilyn introduced the speaker for the evening, American's for Prosperity Florida Director Slade O'Brien. In a Powerpoint Presentation, Slade took us through his view of the Challenges and Opportunities for 2014.
Some Pictures of the event: