Get out of our Comfort Zones – says our keynote speaker
---
Allen West was the keynote speaker at our 2013 Holiday Party.
Members and other guests were eager to hear from former Congressman West at our year-end meeting.  Outgoing President Cindy Tindall described the evening's events and then after the invocation by Howard Parmet, and the Pledge of Allegiance and a song of thanks, there was a mad dash to the sumptuous Turkey buffet.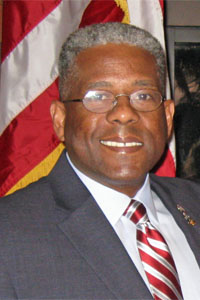 Allen West
Colonel West had several messages to us for 2014:
It's not enough to keep the majority in the House – we need to expand it.
He asked 3 questions of us – had we read Sun Tzu's "The Art of War"?  Had we read "Rules for Radicals"?  And had we read the GOP's Growth and Opportunity Strategy report?  Many had read the first two, none had read the latter.  How are we going to win if we hadn't even read the document?
We in Palm Beach County need to get out of our comfort zone and get out to communities like Belle Glade and Pahokee
DO talk about social issues with the black community.  School choice is the top issue there as is abortion.
The Republican Party was formed to fight slavery; now we are fighting economic slavery  Reject being called racist.
We have a war for/on behalf of women, not a war on women
The 'other side' never stopped campaigning.  Our party has to step up.
Obamacare is going to fail.  The strategy will be to blame the insurance companies and then move to Single Payer – "Medicaid for all".
He ended with an oft used quote about combat "If you find yourself in a fair fight then your tactics suck!"
After a question and answer session – Allen had to leave for the TV studio in Boynton Beach for a segment on the Kelly Files on Fo News Channel.
Cindy conducted the election for the 2014 Officers' slate.  Marilyn Parmet was elected President; Linda Gore – First VP, Jane Pike – VP; Treasurer – Jeff Holtzman, and Linda Stoch, Membership Chair.  The position of Secretary remains unfilled and members are encouraged to volunteer for the Board- just contact Marilyn.
After the elections – candidates for office were given a few moments to speak.  Speakers running in the GOP Primary for Congressional District 18 against Patrick Murphy were:  Ellen Andel,  Beverly Hires, Carl Domino, Alan Schlesinger and Ilya Katz.  Calvin Turnquist also running for the seat was not present.  Also speaking was Henry Colon, the only Republican candidate running against Ted Deutch in District 21.  Paula Prudente handed out cards for a new GOP candidate running against Alcee Hastings, District 20.  You can keep abreast of all the 2014 by clicking on the 2014Voter's Guide button on the first page of the website.
Thanks to all who came and Congratulations to the new Officers!
Wishing you all a Merry Christmas, a Happy Holiday and a Happy New Year!
---
Some pictures from the event: