Congressman-elect Brian Mast joined us for a Victory celebration at Frenchman's Reserve on December 4. As the new Republican representing the 18th district, he will join a unified Republican Caucus in the 115th Congress ready, willing and able to implement the Trump agenda starting on day 1. After 4 years of representation by the very liberal Patrick Murphy (rated 4 out of 100 by the American Conservative Union), we look forward to having a Congressman who shares our values.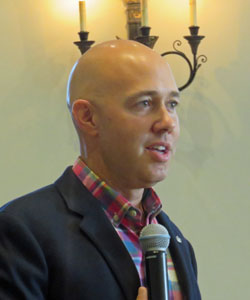 Brian recounted his experience in the weeks following the election, particularly the "Freshman Orientation" in the capital where he participated in closed door caucus sessions that attempted to discern just what the voters mean by "Drain the Swamp". He was encouraged by the apparently very real concern by Representatives old and new that the voters clearly reject business as usual in the Congress, and they seem to really want to deliver on the Trump message of ending corruption and moving on the right priorities, not just those that will fill the pockets of the participants. While he can't guarantee that his colleagues will follow through on this theme, he certainly plans to do so.
Brian plans to reside in his capital office while in Washington (as do 80 other House Members), and travel back to the district frequently on weekends. His wife plans to home-school their children starting after the end of this school year, so they will be more easily able to travel with him as needed.
We look forward to seeing Brian frequently in the future and wish him well on what could be a long and productive political career.
Next month, join us as the club will host Sid Dinerstein for a look at the past election and what it portends.
At the February meeting at Frenchman's Reserve Clubhouse, County Commissioner Hal Valeche administered the Oath of Office to newly elected leaders Marilyn Parmet (President), Linda Gore (First Vice President), Jane Pike (Vice President), and Linda Stoch (Membership Chair). Treasurer Jeff Holtzman could not be present.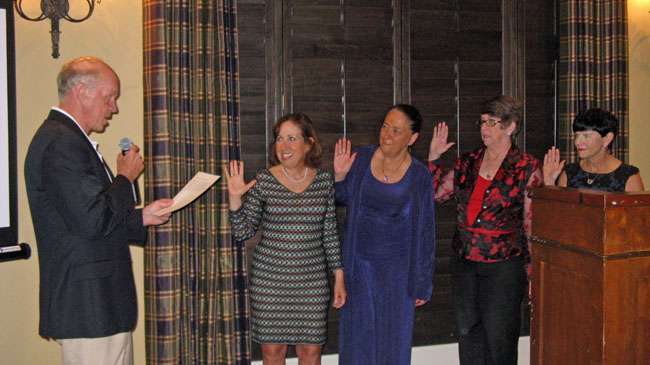 From left, Commissioner Valeche, Marilyn Parmet, Linda Gore, Jane Pike, and Linda Stoch.
Following remarks by Hal in support of the candidates for the Palm Beach Gardens Council election on March 11, (Robin Deaton and Mike Peragine, who were both present), Marilyn introduced the speaker for the evening, American's for Prosperity Florida Director Slade O'Brien. In a Powerpoint Presentation, Slade took us through his view of the Challenges and Opportunities for 2014.
Some Pictures of the event:
Allen West was the keynote speaker at our 2013 Holiday Party.
Members and other guests were eager to hear from former Congressman West at our year-end meeting.  Outgoing President Cindy Tindall described the evening's events and then after the invocation by Howard Parmet, and the Pledge of Allegiance and a song of thanks, there was a mad dash to the sumptuous Turkey buffet.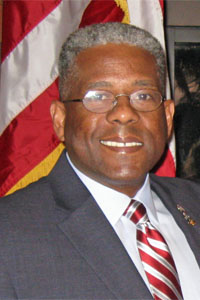 Allen West
Colonel West had several messages to us for 2014:
It's not enough to keep the majority in the House – we need to expand it.
He asked 3 questions of us – had we read Sun Tzu's "The Art of War"?  Had we read "Rules for Radicals"?  And had we read the GOP's Growth and Opportunity Strategy report?  Many had read the first two, none had read the latter.  How are we going to win if we hadn't even read the document?
We in Palm Beach County need to get out of our comfort zone and get out to communities like Belle Glade and Pahokee
DO talk about social issues with the black community.  School choice is the top issue there as is abortion.
The Republican Party was formed to fight slavery; now we are fighting economic slavery  Reject being called racist.
We have a war for/on behalf of women, not a war on women
The 'other side' never stopped campaigning.  Our party has to step up.
Obamacare is going to fail.  The strategy will be to blame the insurance companies and then move to Single Payer – "Medicaid for all".
He ended with an oft used quote about combat "If you find yourself in a fair fight then your tactics suck!"
After a question and answer session – Allen had to leave for the TV studio in Boynton Beach for a segment on the Kelly Files on Fo News Channel.
Cindy conducted the election for the 2014 Officers' slate.  Marilyn Parmet was elected President; Linda Gore – First VP, Jane Pike – VP; Treasurer – Jeff Holtzman, and Linda Stoch, Membership Chair.  The position of Secretary remains unfilled and members are encouraged to volunteer for the Board- just contact Marilyn.
After the elections – candidates for office were given a few moments to speak.  Speakers running in the GOP Primary for Congressional District 18 against Patrick Murphy were:  Ellen Andel,  Beverly Hires, Carl Domino, Alan Schlesinger and Ilya Katz.  Calvin Turnquist also running for the seat was not present.  Also speaking was Henry Colon, the only Republican candidate running against Ted Deutch in District 21.  Paula Prudente handed out cards for a new GOP candidate running against Alcee Hastings, District 20.  You can keep abreast of all the 2014 by clicking on the 2014Voter's Guide button on the first page of the website.
Thanks to all who came and Congratulations to the new Officers!
Wishing you all a Merry Christmas, a Happy Holiday and a Happy New Year!
---
Some pictures from the event:
Senator Joe Negron, was our October Guest. Representing District 32, which includes all of Martin and St. Lucie Counties, as well as the far north (Jupiter / Tequesta) of Palm Beach County, Senator Negron has represented the Treasure Coast in either the House or Senate since 2000.
Senator Negron spoke of the things that unite us rather than a division of ideas. State and local governments have the most impact to each of us, yet national security, taxation and regulations should be the big picture. We should "always with kindness, and respect, appeal to our elected representatives" to consider the impacts and both intended and unintended consequences of their actions.
Our state has a great example in our Governor – we must work to re-elect him to continue the economic stability we are experiencing.
Senator Negron is currently running for re-election in 2014, and has drawn a Republican challenger (Brandon Cannon) for the August Primary.
Some pictures from Jane Pike:

Republican Club of the Northern Palm Beaches
Invites you to our October Meeting



An evening with




Joe Negron



Florida State Senator representing District 32
Wednesday, October 23rd
5:30 PM to 7:30 PM
Frenchman's Reserve
Club House
$20 non-members / $10 members
Appetizers on the Club
Cash Bar
Please RSVP by clicking on the button below or sending an email to: RSVP

Our guest speaker for September was former PBC GOP Chairman Sid Dinerstein.
Explaining in clear terms why Republicans are not on a winning path, Sid laid out some simple Zen-like truths.
The path to victory is not through finding a bunch more white guys to vote for us. Hard core Democrats are never going to accept our worldview, so why waste time trying to convert them. Find natural conservative constituencies and make your case.
As an example of the latter, he used charter schools. Lots of them in Florida are really helping their students, many of whom are minorities, but the local teachers unions and school boards hate them. Solution: have the Governor appoint an education coordinator for charter schools and give them some Tallahassee weight.
Another example of a "natural" Republican opportunity would be Detroit – show the residents of that city what Democrats have done to them and that there is a better way. Closer to home, there is the Haitian community – with their political clubs and radio stations. Sid has made inroads with the Haitians and offered to the Governor an opportunity to address a meeting of a couple of thousand but was rebuffed by staff. For 2014, the Haitian Republican clubs that are forming could be a real asset in the St. Lucie County areas of CD18.
As usual, he left us both challenged but encouraged.
The meeting saw the addition of several new members and the participation of Gardens Mayor Bert Premuroso.
Coming up next month will be Senator Joe Negron.
Join us for Lobster Fest 2013. Use the [PRINT] link (upper right) to print the form and send it (along with a check) to the County GOP at the address noted. You can also let the club know you are attending by clicking on the RSVP button below.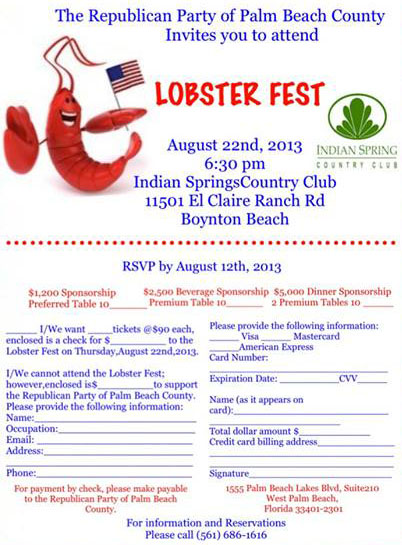 Please Join us on June 19
for a
2013 Florida State
Legislative Session Update
With Special Guest Speakers:
State Sen. Joe Negron*, State Rep. MaryLynn Magar,
and State Rep. Pat Rooney
5:30 PM to 7:30 PM
Frenchmans Reserve
Club House
*Tentative
Tuesday, March 5th
5:30 PM to 7:30 PM




Join us to support




James D'Loughy




Candidate for Palm Beach Gardens City Council
James D'Loughy, a long-time resident of Palm Beach Gardens, has distinguished himself through a career marked by integrity, sound business sense, and community service. A lawyer of over 17 years, James is the founder of AdvisorLaw PLLC, a legal firm that represents clients in complex business matters. He helps individuals and small businesses alike protect their assets, resolve conflicts, and plan for a rainy day.
James's knowledge of politics is informed by a degree in political science as well as experience working on Capitol Hill. However, it is his unmatched business acumen and expertise as a strong fiscal planner that set him apart from the competition when it comes to who can best manage the affairs of Palm Beach Gardens. Moreover, having worked on corporate transparency and compliance issues, James is ready to bring a new level of ethical governance to the Palm Beach Gardens City Council.
James lives with his wife, Anne Louise, his two daughters, Fredericka and Wilhelmina, and his newborn son, Maximilian, in the city, where he volunteers his time as a member of his
community's governing body.
"I'm running for City Council because I want Palm Beach Gardens to remain a thriving city where my children can grow up, work, and one day start families of their own. I believe deeply in civic service and want to fulfill this duty to my community by doing the real work that will bring in new business, maintain public services, and plan for the future. At a time when we need fresh thinking to get on track, we should not settle for old candidates who make careers out of name recognition. Local politics is serious business, and I am committed to providing the initiative, integrity, and work ethic that our residents deserve."
—James D'Loughy
$25 suggested minimum contribution

Appetizers on the Club
Cash Bar
Please RSVP