Vice President Joe Biden held a rally at Palm Beach State on Wednesday. Members of the RCNPB Trump team were there to greet him.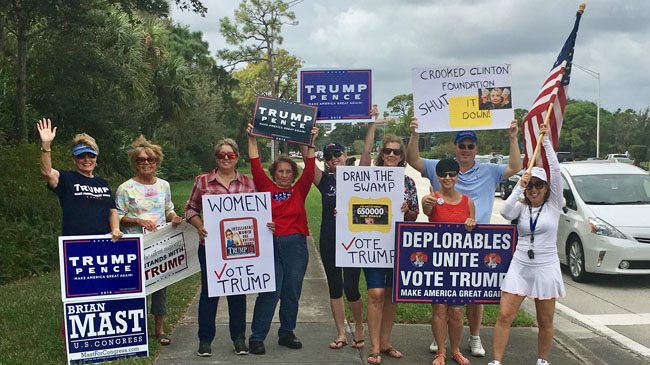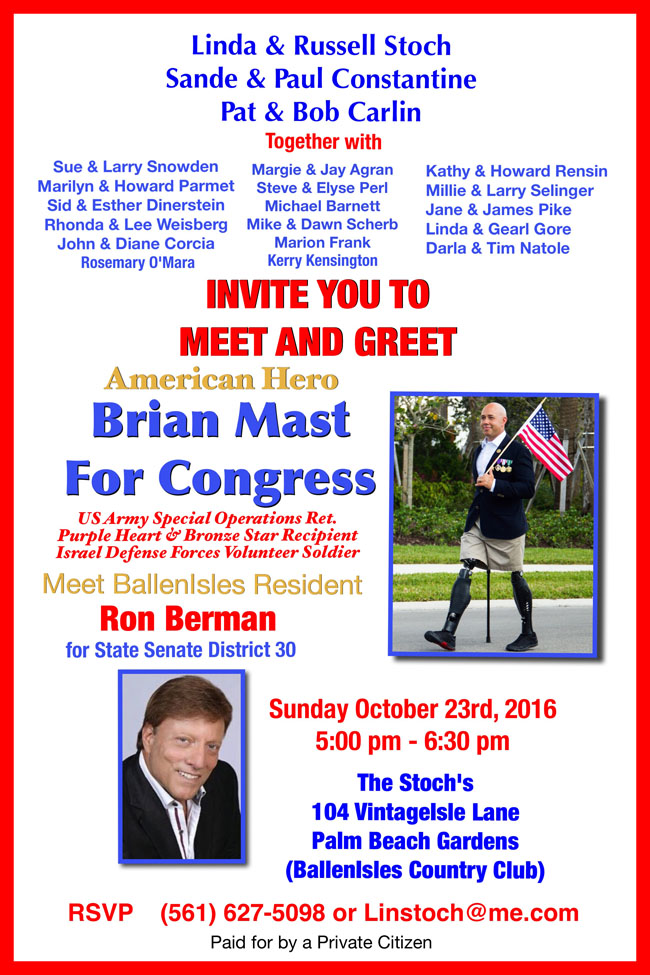 Show your support for Ron by attending this upcoming Meet & Greet. RSVP to Tom Plante, 561-236-8891.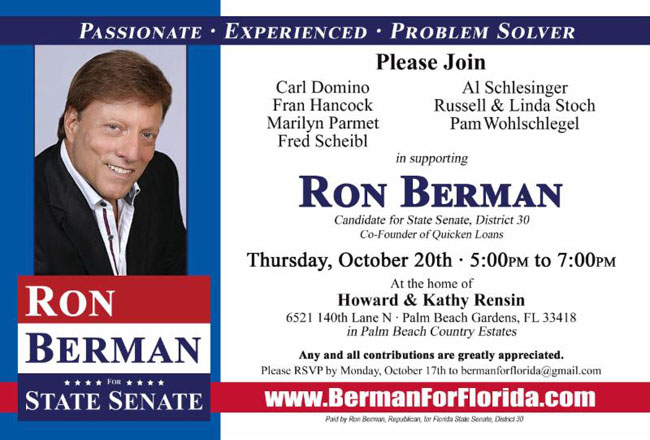 Many of the so-called "establishment" are seriously plotting ways to thwart the results of the primaries at the Republican convention. They apparently feel that "their" party has been taken over by the barbarians from flyover country. They think that a convention draft of someone who has entered no primaries, taken part in no debates, spent no time campaigning, would be preferable to either Donald Trump or Ted Cruz. Even a Hillary Clinton presidency (the likely outcome of such a draft) would be preferable to submitting to the rabble.
My first reaction was that they had seriously lost touch with the rank and file of the Republican party, but that is an oversimplification.
The party is defined by its voters – not those that consider themselves the "leaders". Who are they leading? People like Mitt Romney, John McCain, Mitch McConnell and Lindsey Graham have much more in common with Hillary Clinton than they do with the "real" Republicans who provide the heart and soul of the GOP. Maintaining the status quo in Washington, with a heavily Progressive bureaucracy controlling more and more of our daily lives and a Congress that sees being the majority as simply a means to a bigger office and more access to lobbyist dollars, is the goal of both parties. The so-called "GOP leadership", including our new Speaker who has given the Obama juggernaut everything it wants in their spending bills, have betrayed those that gave them the House in 2010 and the Senate in 2014.
I have been a Republican for my entire voting life and have worked for candidates at all levels since the 2004 re-election of George W. Bush. I held my nose and supported McCain, and supported (although with minimal enthusiasm) Romney as he threw away what should have been an easy win by running one of the worst campaigns in modern history. I will no longer support those who have such contempt for the voters as to tell us we are morons.
The McConnells and Boehners and Ryans tell us they can't govern from the Congress – even though they told us if we elected them in 2010 and 2014 they would change the dynamic. Now they claim they need the Presidency.
In my view, we need an insurgent – a real change agent, to alter the relationship between our government and its citizens. Currently what we have is condescension and scorn, with a dose of fraud and deceit for good measure. We are at an inflection point in our history – the country is circling the drain and everyone out there in flyover country knows it but people of the "GOP leadership" just can't (or won't) acknowledge it.
Without drastic change, starting immediately, the country is lost. Donald Trump may not be a movement conservative, but he is a change agent. Stopping illegal immigration, negotiating better trade deals, changing our tax and regulatory structure to bring whole industries back to the US, repudiating the "America Last" policies of Obama and Clinton – that is his agenda. Ted Cruz would proceed with a similar set of goals, but I think that Trump has a better chance of actually becoming President. He has already put a dent into the Clinton's machine by reminding us all that Bill is an un-indicted sex offender, and that she has committed felonies – whether the Justice department prosecutes them or not. He has already altered the party registration picture, generated unprecedented turnout and voter loyalty, and has a good chance to bring some blue states to the Republican fold.
It is not that Trump will "change the Republican Party" or if it can "survive". The party has already changed – Trump is just the best candidate suited to lead what it has become. Any attempt to ignore the will of the voters with shenanigans at the convention will not just disrupt this year's race – it will end the GOP.
Sunday afternoon brunch at Frenchman's Reserve was an excellent opportunity for the club to introduce Florida Senate Candidate Ron DeSantis. The brunch was something new for the club, and the expansive array of delicious food was a grazer's delight.
First elected to Congress in 2012, Ron represents Florida district 6, a coastal district stretching from south of Jacksonville to New Symrna Beach. An outspoken member of the House Freedom Caucus, which was instrumental in booting John Boehner from the Speaker's chair, he gets a well-earned 89% on the Heritage Action Scorecard, highest in the House.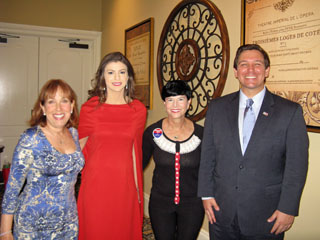 Marilyn Parmet, Casey DeSantis,
Linda Stoch and Ron DeSantis
As a 2016 Senate Candidate, he will face Representative David Jolly (Heritage Action 41%), Lt. Governor Carlos Lopez-Cantero, and former CIA and Army Special Forces Veteran Todd Wilcox in the August Primary. The winner of that contest will go on to face either our own Patrick Murphy (Heritage 16%) or Allan Grayson (also 16%).
Describing the country's mood as "malaise", and a feeling that neither party has a clue, Ron suggested that if Obama had been President during World War II, we would have lost.
Militant Islam, he said, is not limited to a few terrorist groups like ISIS, but a wider problem – witness the reaction at the Turkish Soccer match when calls for a moment of silence for Paris were met with chants of "Allahu akbar". And ISIS is not the only Muslim Caliphate – there is a Shia version spreading from Africa to Asia led by Iran. Obama's weakness has demonstrated to them that we can be attacked with impunity.
Ron then ran down his thoughts on a number of issues of the day, including:
He sponsored a bill with Arkansas Senator Tom Cotton to eliminate aid to any country that accepts Guantanamo prisoners and then lets them return to the battlefield.
With Ted Cruz he pushed a bill to put a pause on the import of Syrian refuges.
He would arrange it so any home-grown Jihadi who leaves the country to fight for ISIS could not return.
He opposes Ethanol subsidies as crony capitalism.
He supports articles of impeachement for IRS Chief Koskinen.
He opposes Common Core and voted against the NCLB re-authorization.
He thinks Hillary Clinton should be prosecuted for her email server and its attempts to avoid Congressional oversight and FOIA request.
He sees Obamacare failing before our eyes – much quicker than predicted, and thinks we should move to replace it with patient-centered healthcare.
Learn more about Ron DeSantis at his website: www.desantis2016.com

In other Club business, the slate of officers was elected for 2016:
Marilyn Parmet, President
Linda Stoch, Vice President
Bill Nelson, Treasurer
Jane Pike, Secretary
The Sunshine Summit, last weekend's gathering of the Republican grassroots in Orlando, brought together 14 of the 15 candidates currently competing for presidential primary votes, along with most of the Senate candidates.
Unlike the events of the last two cycles in 2007 and 2011, which featured both televised debates and straw polls, this was mostly a candidate showcase – each was given 20 minutes to make their case. The extreme number of candidates this time, and the fact that Florida does not vote until March 15 – after 26 states will have already assigned their delegates, probably reduced attendance at the event. Still, there were upwards of 1000 in the hall, and the media presence was considerable. CSPAN covered the event live, and lots of recognizable on-air personalities could be seen roaming the halls.
External events played a role in what transpired, as reaction to the Paris attacks on Friday were integrated into the Saturday speeches, or in the case of Chris Christie, dominated their remarks. And the Democrat debate on Saturday night offered a unique opportunity to compare all of our contenders to Hillary Clinton and her two pesky sparring partners.
All the candidates remarks can be seen streaming on CSPAN.
After watching all the debates and attending the Heritage Action Event in South Carolina (with 10 of the candidates), I thought I had a good idea of the dynamics of the race and who was on my short list. That said, I left Orlando with a few new insights.
1. The outsiders have captured the imagination of large portions of the Republican base, even at an event comprised mostly of "insiders".
As an event sponsored by the Republican Party of Florida, with a large number of blue-badged party officials in attendance, I expected a great deal of support and enthusiasm for the "favorite sons" Jeb Bush and Marco Rubio, and less for the outsiders Trump, Carson, Fiorina, and (some would say) Ted Cruz. This was clearly not the case.
While Jeb and Marco have strong support, it was the outsiders who were the rock stars.
Ted Cruz laid out the red meat with a flourish and hit all the hot buttons from Obamacare to the border, the Iran deal, a flat tax, and support for Israel, to thunderous applause.
Donald Trump, avoiding any criticism of his rivals this time, took on illegal immigration (need a Dream Act for Americans), winning again, incompetent leaders, and suggested that college students should be taught about the first amendment. The response was widespread and overwhelming.
Ben Carson, after a quiet start discussing his upbringing, lit into an extensive litany of all the things he would do if he wanted to "destroy America" – all of which Obama has put into motion. His was the most complete and devastating attack on the incumbent President of all the candidates and the crowd responded with enthusiasm.
Carly Fiorina, the last speaker of the event, focused on the Paris attacks, the feckless and dangerous foreign policy of Obama/Clinton, and what she would be doing about ISIS. It seemed like Margaret Thatcher channeling Winston Churchill and left no doubt that she would be a serious and effective commander-in-chief. The response was loud and enthusiastic.
2. Almost all of the Republican contenders are displaying the vision, determination, skill and experience that could believably repair the damage that 7 years of Obama have wrought. Clinton is clearly not in the same league with these people, in spite of her over 25 years on the national stage, and tenure as Senator and Secretary of State.
One thing that has become obvious to many people is that there are many kinds of relevant experience besides being an elected official. The office of President is a unique job, unlike any other, and it takes a generalist to oversee a diverse set of tasks, a communicator to inspire the country and lead it in a positive direction, and a visionary to see our potential as a people and set the wheels in motion to carry us forward. Governors, Senators, Business Leaders – all have skills that are relevant to the job, and all of the candidates now in the race have been successful in their lives and bring serious qualifications and abilities to the table.
Some would say that the terrible state that the country is in – anemic growth, unsustainable debt, corruption at all levels, an abdication of world leadership – is a result of professional politicians and insiders (lobbyists, big donors, etc) having screwed everything up. Hillary Clinton, who is unarguably the stereotype of all those things, would represent more of the same, as could be seen on the debate stage in Des Moines. It was apparent in Orlando that our candidates (to a greater or lesser extent), reject the status quo and will lead the country in a different direction.
3. The weeding out process is going to be long and arduous, as very few of these contenders can be counted out, despite their current standing in the polls.
Until the first delegates are selected in the Iowa caucuses on February 1, the polls will be unreliable, as most likely voters appear to be making tentative selections. Many people, until they have to commit, will lean to the candidate that meets their ideological goals, appears to speak "for them", says the "right things", or wins debating points. When the rubber meets the road though, issues of electability, consistency, honesty, ethics, contrast with the Democrat candidate, and other issues will rise in importance. As this year is unusual in the number of candidates and the widespread dissatisfaction with elected officials, predictions are hard.
Some weeding out has already begun, as few would expect Lindsey Graham or Jim Gilmore to become the nominee, and two candidates have already left the race. But all the rest have ardent supporters and judging by the enthusiastic response at the summit to most of the candidates, there are many "acceptable alternatives". It is truly a deep bench.