Congressman-Elect Brian Mast Highlights our December Brunch
---
Congressman-elect Brian Mast joined us for a Victory celebration at Frenchman's Reserve on December 4. As the new Republican representing the 18th district, he will join a unified Republican Caucus in the 115th Congress ready, willing and able to implement the Trump agenda starting on day 1. After 4 years of representation by the very liberal Patrick Murphy (rated 4 out of 100 by the American Conservative Union), we look forward to having a Congressman who shares our values.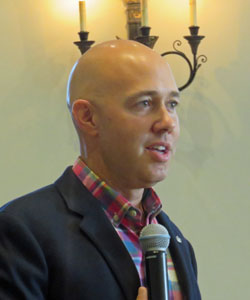 Brian recounted his experience in the weeks following the election, particularly the "Freshman Orientation" in the capital where he participated in closed door caucus sessions that attempted to discern just what the voters mean by "Drain the Swamp". He was encouraged by the apparently very real concern by Representatives old and new that the voters clearly reject business as usual in the Congress, and they seem to really want to deliver on the Trump message of ending corruption and moving on the right priorities, not just those that will fill the pockets of the participants. While he can't guarantee that his colleagues will follow through on this theme, he certainly plans to do so.
Brian plans to reside in his capital office while in Washington (as do 80 other House Members), and travel back to the district frequently on weekends. His wife plans to home-school their children starting after the end of this school year, so they will be more easily able to travel with him as needed.
We look forward to seeing Brian frequently in the future and wish him well on what could be a long and productive political career.
Next month, join us as the club will host Sid Dinerstein for a look at the past election and what it portends.