Holiday Party Brunch with Ron DeSantis
---
See below for Brunch Menu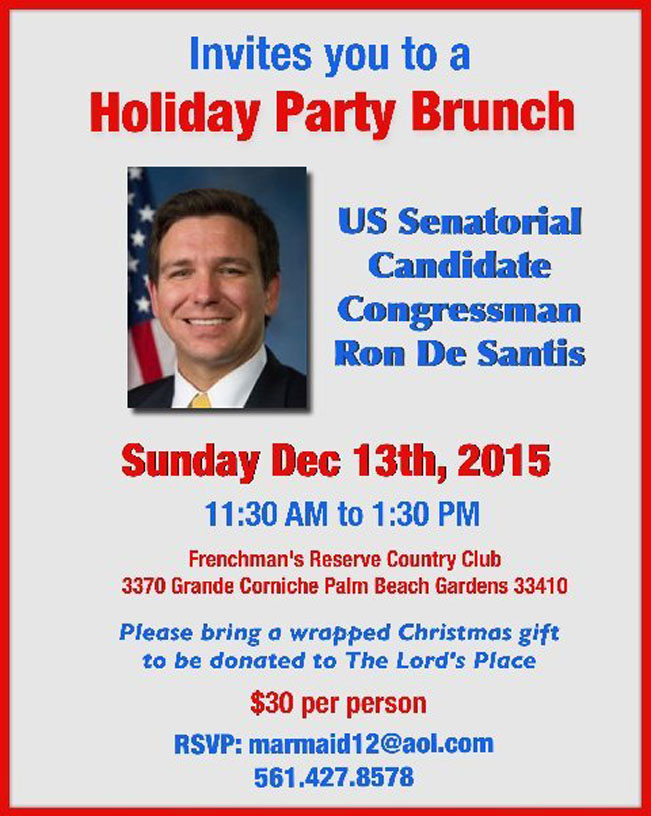 ---
Organic Orange Juice
WAFFLE STATION
Delectable Belgian Waffles freshly prepared.
Served with Maple Syrup, Sweet Cream Butter, Whipped Cream, and Fresh Strawberries
BREAKFAST HASH AND EGG STATION
Choose Your Favorite Breakfast Hash and Top It with an Egg Made to Order
(Changes Weekly)
Salmon Hash with Fennel, Dill and Yukon Gold Potatoes
Traditional Corned Beef Hash
Beef Short Rib Hash with Caramelized Carrots, Celery and Onions
Braised Chicken Thigh Hash with Roasted Tomatoes and Sweet Potatoes
Roasted Vegetable Hash with Braised White Beans
OMELET AND EGG STATION
Fresh Omelets and Eggs Made to Order
(Egg White Omelets available upon request).
Smoked Salmon, Diced Ham, Asparagus Tips, Sautéed Wild Mushrooms, Diced Tomatoes, Sautéed Onions, Chopped Fine Herbs, and Sautéed Peppers.
Cheddar, Fontina and Goat Cheese
BREAKFAST FAVORITES:
Yogurt and Granola Martinis (6 oz.)
Individual Low-Fat Fruit Yogurt, Fresh Fruit Display
Cold Cereals, Individual Box with Milk
Oatmeal with Brown Sugar and Raisins
Assorted Kashi Cereals with Milk
Eggs Benedict
Chef Roger's French Toast
Country Herb Sausage Links
Turkey Sausage
Nueske's Bacon
Sautéed Breakfast Potatoes
Nova and Cream Cheese, Cracked Pepper Lavash and Mini Bagels
Breakfast Pastries, Butter, Marmalades, and Preserves
FRENCHMANS RESERVE SALAD BAR
Seasonal fresh greens, fresh vegetables, house made dressings, tuna salad, chicken salad, egg salad, and more