See below for Brunch Menu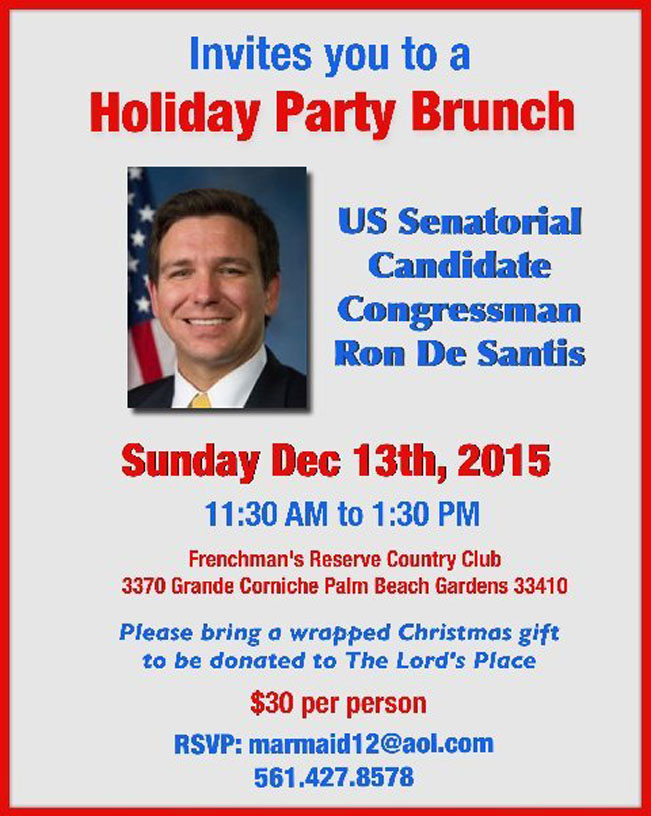 ---
Organic Orange Juice
WAFFLE STATION
Delectable Belgian Waffles freshly prepared.
Served with Maple Syrup, Sweet Cream Butter, Whipped Cream, and Fresh Strawberries
BREAKFAST HASH AND EGG STATION
Choose Your Favorite Breakfast Hash and Top It with an Egg Made to Order
(Changes Weekly)
Salmon Hash with Fennel, Dill and Yukon Gold Potatoes
Traditional Corned Beef Hash
Beef Short Rib Hash with Caramelized Carrots, Celery and Onions
Braised Chicken Thigh Hash with Roasted Tomatoes and Sweet Potatoes
Roasted Vegetable Hash with Braised White Beans
OMELET AND EGG STATION
Fresh Omelets and Eggs Made to Order
(Egg White Omelets available upon request).
Smoked Salmon, Diced Ham, Asparagus Tips, Sautéed Wild Mushrooms, Diced Tomatoes, Sautéed Onions, Chopped Fine Herbs, and Sautéed Peppers.
Cheddar, Fontina and Goat Cheese
BREAKFAST FAVORITES:
Yogurt and Granola Martinis (6 oz.)
Individual Low-Fat Fruit Yogurt, Fresh Fruit Display
Cold Cereals, Individual Box with Milk
Oatmeal with Brown Sugar and Raisins
Assorted Kashi Cereals with Milk
Eggs Benedict
Chef Roger's French Toast
Country Herb Sausage Links
Turkey Sausage
Nueske's Bacon
Sautéed Breakfast Potatoes
Nova and Cream Cheese, Cracked Pepper Lavash and Mini Bagels
Breakfast Pastries, Butter, Marmalades, and Preserves
FRENCHMANS RESERVE SALAD BAR
Seasonal fresh greens, fresh vegetables, house made dressings, tuna salad, chicken salad, egg salad, and more
The Sunshine Summit, last weekend's gathering of the Republican grassroots in Orlando, brought together 14 of the 15 candidates currently competing for presidential primary votes, along with most of the Senate candidates.
Unlike the events of the last two cycles in 2007 and 2011, which featured both televised debates and straw polls, this was mostly a candidate showcase – each was given 20 minutes to make their case. The extreme number of candidates this time, and the fact that Florida does not vote until March 15 – after 26 states will have already assigned their delegates, probably reduced attendance at the event. Still, there were upwards of 1000 in the hall, and the media presence was considerable. CSPAN covered the event live, and lots of recognizable on-air personalities could be seen roaming the halls.
External events played a role in what transpired, as reaction to the Paris attacks on Friday were integrated into the Saturday speeches, or in the case of Chris Christie, dominated their remarks. And the Democrat debate on Saturday night offered a unique opportunity to compare all of our contenders to Hillary Clinton and her two pesky sparring partners.
All the candidates remarks can be seen streaming on CSPAN.
After watching all the debates and attending the Heritage Action Event in South Carolina (with 10 of the candidates), I thought I had a good idea of the dynamics of the race and who was on my short list. That said, I left Orlando with a few new insights.
1. The outsiders have captured the imagination of large portions of the Republican base, even at an event comprised mostly of "insiders".
As an event sponsored by the Republican Party of Florida, with a large number of blue-badged party officials in attendance, I expected a great deal of support and enthusiasm for the "favorite sons" Jeb Bush and Marco Rubio, and less for the outsiders Trump, Carson, Fiorina, and (some would say) Ted Cruz. This was clearly not the case.
While Jeb and Marco have strong support, it was the outsiders who were the rock stars.
Ted Cruz laid out the red meat with a flourish and hit all the hot buttons from Obamacare to the border, the Iran deal, a flat tax, and support for Israel, to thunderous applause.
Donald Trump, avoiding any criticism of his rivals this time, took on illegal immigration (need a Dream Act for Americans), winning again, incompetent leaders, and suggested that college students should be taught about the first amendment. The response was widespread and overwhelming.
Ben Carson, after a quiet start discussing his upbringing, lit into an extensive litany of all the things he would do if he wanted to "destroy America" – all of which Obama has put into motion. His was the most complete and devastating attack on the incumbent President of all the candidates and the crowd responded with enthusiasm.
Carly Fiorina, the last speaker of the event, focused on the Paris attacks, the feckless and dangerous foreign policy of Obama/Clinton, and what she would be doing about ISIS. It seemed like Margaret Thatcher channeling Winston Churchill and left no doubt that she would be a serious and effective commander-in-chief. The response was loud and enthusiastic.
2. Almost all of the Republican contenders are displaying the vision, determination, skill and experience that could believably repair the damage that 7 years of Obama have wrought. Clinton is clearly not in the same league with these people, in spite of her over 25 years on the national stage, and tenure as Senator and Secretary of State.
One thing that has become obvious to many people is that there are many kinds of relevant experience besides being an elected official. The office of President is a unique job, unlike any other, and it takes a generalist to oversee a diverse set of tasks, a communicator to inspire the country and lead it in a positive direction, and a visionary to see our potential as a people and set the wheels in motion to carry us forward. Governors, Senators, Business Leaders – all have skills that are relevant to the job, and all of the candidates now in the race have been successful in their lives and bring serious qualifications and abilities to the table.
Some would say that the terrible state that the country is in – anemic growth, unsustainable debt, corruption at all levels, an abdication of world leadership – is a result of professional politicians and insiders (lobbyists, big donors, etc) having screwed everything up. Hillary Clinton, who is unarguably the stereotype of all those things, would represent more of the same, as could be seen on the debate stage in Des Moines. It was apparent in Orlando that our candidates (to a greater or lesser extent), reject the status quo and will lead the country in a different direction.
3. The weeding out process is going to be long and arduous, as very few of these contenders can be counted out, despite their current standing in the polls.
Until the first delegates are selected in the Iowa caucuses on February 1, the polls will be unreliable, as most likely voters appear to be making tentative selections. Many people, until they have to commit, will lean to the candidate that meets their ideological goals, appears to speak "for them", says the "right things", or wins debating points. When the rubber meets the road though, issues of electability, consistency, honesty, ethics, contrast with the Democrat candidate, and other issues will rise in importance. As this year is unusual in the number of candidates and the widespread dissatisfaction with elected officials, predictions are hard.
Some weeding out has already begun, as few would expect Lindsey Graham or Jim Gilmore to become the nominee, and two candidates have already left the race. But all the rest have ardent supporters and judging by the enthusiastic response at the summit to most of the candidates, there are many "acceptable alternatives". It is truly a deep bench.